HOWARD'S VER MAGNUSSON- R.I.P.
REST IN PEACE-"GRCH" Howard's Magnus - SchHB, ScH3, UKC Superdog (UCD, UWP, UAG1, GRCH), APA WPT3, Obed. 2, PD1 Obed, SCT, Pennhip, OFA Cardio, FAST G rating, DNA PROFILED, MEMBER OF THE SChH 3 Club, EVEN THOUGH HE HAS BEEN GONE FOR A COUPLE OF YEARS, I JUST CAN'T TAKE HIS PAGE DOWN...SORRY...
In our opinion, Magnus was the true Total Dog. He could work hard, play well, had great temperament, and conformed to the the standard. At almost 11 years old Magnus passed away. He will be FOREVER missed. He worked hard, until the week he died. Magnus will live on for us, in his daughter Buffy, son Max, and grandson Creature. Magnus passed on hard to get amstaff traits, like athletic ability, stamina, and stable drive.
Bark and hold on Gustavo Sanchez.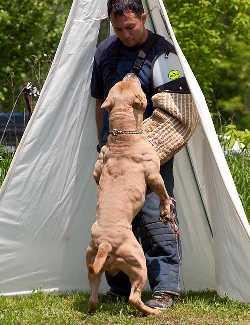 Magnus on helper Will Rogers.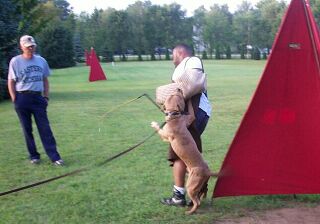 Magnus practicing for the show ring. He finished his GRCH title with many BOBs and over good competiiton, before 2 years of age. He also has two Excellent ratings with ARBA, and a Good rating with FAST.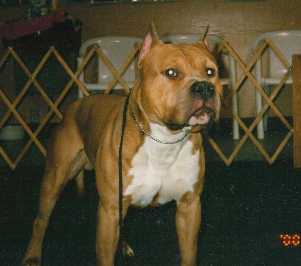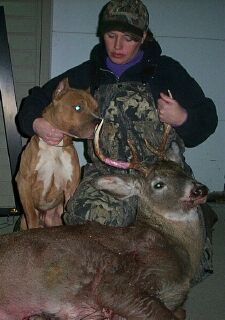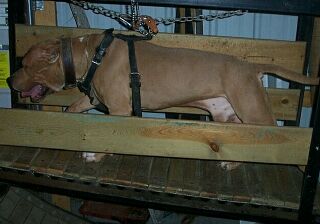 Beth, Magnus and her 6 point, shot during muzzle loading season. Magnus is also a good deer tracking dog. Blood trailing is another good thing to do with a retired SchH3 dog. Magnus is almost 9 years old in this picture.
AGILITY
PHOTOS OF MAGNUS TAKEN BY STURTZ PHOTOGRAPHY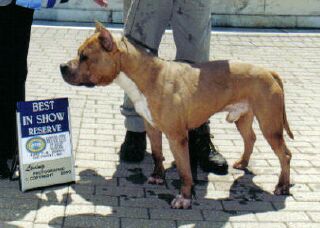 Here is a picture of magnus on his slat mill. It is a good piece of exercise equipment for conditioning a working dog, of any breed. Contrary to what many ignorant people believe, "A treadmill is NOT a dogfighting tool!"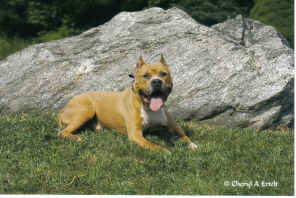 This is a picture of Magnus at an ARBA show winning BOB, and terrier group. He has two excellent CACs.
Below is a picture of Magnus at his first conformation show. He won BOW at the Premier. During Magnus' show career, he won several best in shows, over good competition, and many time he was at "working weight' which is tough.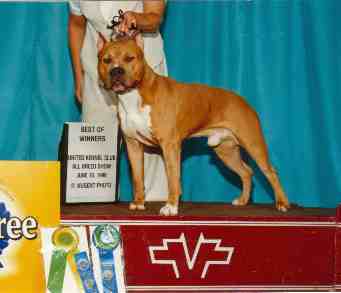 This is a picture of Magnus taken by Chery Ertelt when he was 10 years old. Cheryl is a professional photographer who freelances for Bully breed mag, brown trout, ect.
Below a pic of Magnus entering the teeter. He was over 8 years old when he earned his AG1, and we did not even know about senior jumps, so he went full height. Which really does not mean anything when the SchH jump is almost 4 foot.